NCSC's trademark event, the Blood Donation Drive, is around the corner once again! Over the years, it has developed into one of the most impactful and successful events of NUST, collecting up to 300 pints of blood in one of its recent editions. Several organizations have collaborated with NCSC to conduct these events, including the likes of Jamila Sultana Foundation and the Pakistan Red Crescent Society.
However, the event also has its fair share of the kind of people that show up to it. Here is a list of people that you should be on the lookout for when you come to donate blood next week (we'd ask you to catch them red-handed, but then there's a chance you'll end up on the red end of the proceedings yourself).
1)     Those who are driven by the prospect of photographs
Who does not like a good photograph of themselves? Especially if it has been taken with a DSLR, AND taken while you're donating blood?
But of course, these people demand that their photos be taken. They are the reason we have to set up a photobooth at the event (you're welcome)  However, they are the easiest catch, because all you need is a DSLR and a trained pair of hands snapping amazing (and unreal) pictures, so we're not complaining!
2)     Those who see the photographer and immediately run the other way
Unlike the previous class, this group of people do not want to be clicked while donating blood. Out of some sense of humility, or merely drawing from inner social awkwardness, these people make sure a photographer isn't hanging around when they're donating blood.
3)     The pervasive mufta squad
This is a group we are all familiar with. The typical mufta party seen at every event, participants or not, keeping their eyes on the food and making sure they get a piece of it (or much more than a piece)
At the BDD, these people go through the entire unfulfilling ordeal of donating blood, but then walk out holding boxes containing sandwiches, donuts, and juices, and with a look on their face that says: Mission Accomplished!
4)     The Buddha-inspired self-starving ones
These are people best described as recipes for disaster. They have not had their breakfast, nor have eaten anything since the morning. Then they show up to donate blood. After that, when they do get their lunch boxes and juices, they decide to take them along on their starvation-adventures which are unfortunately cut short when they faint and fall to the ground.
5)     Those who are there for the medical check up
If you didn't know already, the blood donation process is preceded by a medical examination conducted by a group of professionals who check your blood group and your haemoglobin (HB) count.
Now these people are the ones who surprisingly disappear after the medical check-ups, with worried executives failing to find them anywhere. We are still working on figuring out what causes these mysterious disappearances, and do hope those people are all safe (or are we? you ditchers, youu)
6)     Those afraid of needles
This one is another classic. Every BDD has its own 'afraid of needles' group of people who have to be bound to their bed in chains (not really) when it is time to extract their blood. The hair-thin, shiny, and pointed sight of the needle sends a chill down their spines, and they have to be calmed down before anything can be done. Come on people, it doesn't hurt any more than a mosquito bite!
7)     That one group scared by the sight of blood
Forgive us for saying this, but it IS a rather bloody affair. However, not everyone is dazed by this.  Unfortunately, there are those who after seeing their blood undergoing experiments and then being collected in a bag, waste no time in falling sick themselves. It is with this group that we decide they are more in need of the blood than anyone else.
To top it all off, when they turn their face away in revulsion, an innocent-looking drop of blood made out of chart paper naively looks back at them with a smile on its face. Now that is a nice horror story.
8)     The NCSC executives who are forced to donate blood
These people have their duties on the event days, but try to stay low-profile and avoid the sight of  Directors and Office Bearers. They are seen conversing with the walls and empty pockets of space, at other times blending in well with a group of post-donation blood donors. In the end however, all it takes is one unlucky encounter with a senior and off they go to the donation ward!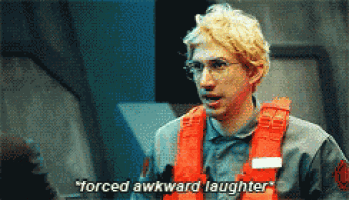 And that's all, folks!
Whatever their quirks, these people do show up to donate blood (except those who run away mid-process), and that is something we value them for, immensely! We hope they continue making a difference to society, moving Pakistan towards the goal of having more willing donors than patients requiring that blood.
And to those who still haven't been to a BDD, this is your chance! Everything will be ready and waiting conveniently for you in the IGIS ground from the 14th to 16th of November, and all you have to do, is show up! It can't be that hard, right?
Looking forward to seeing you all there!
Ishaq Ibrahim